Monday, August 29, 2011 at 11:20PM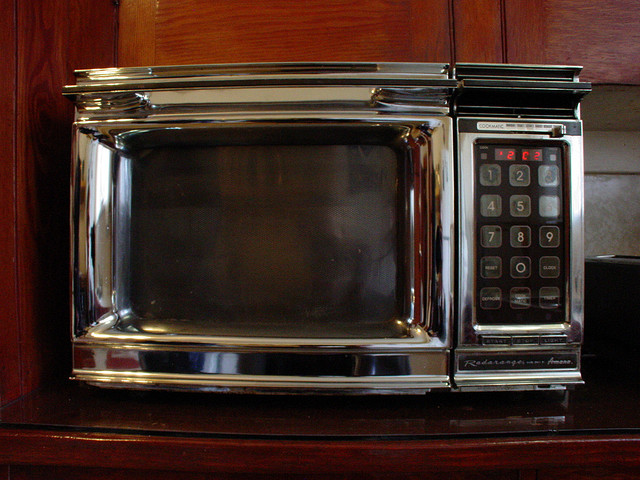 I was a "latch key" kid.
Do people even use that term anymore?
Back then, there was a lot of discussion about kids coming home to empty houses and having to fend for themselves while horribly selfish, career driven mothers were off making money.
There was even a club for us at school.
They taught us the highly useful things in this club: don't open the door for strangers, don't tell people on the phone that you're by yourself, don't use the stove to make yourself something to eat, and, good God, you poor, miserable children, look how you brave you're being by making peace with the fact that your mother is not at home like she's supposed to be.
We did learn a few things on our own.  For example, this situation unequivocally taught me that wrapping a barbeque sauce laden hot dog in aluminum foil and sticking it the microwave in order to emulate a barbeque flavor is an extremely ill conceived plan.
Our system at home was unique.  Mom's office was right next door to the house... she would walk over at random times to make sure we were okay or not blowing up the house with radioactive aluminum hot dog bombs.  We were instructed to call if we needed anything.
But, mostly? We were on our own.  Two kids, making their way through the hours of 3pm and 6pm with the world at our feet and all the television we wanted.  I learned a lot about the value of diversity and cultural negotiations between American rural values and the opulent wealth driven mores of Beverly Hills from Jed, Ellie May and their concrete swimming hole.
(That sounded obscene, didn't it?  Unplanned.  But too good to edit.)
I'm not sure if  being a latch key kid played into my decision to be the kind of mom who is
always
going to be home with her kids.  When I became a mother, something just made me decide that my kids were not going to learn about aluminum in the microwave on their own.
It sounds good on paper.  Be home when the kids are home... be there for them when they need you.  Be there for them... every... second... of... every... day.
But.
Kids
need
space, man.
This clicked for me the other day when, after we'd had a snack together, played on the computer together, watched TV together, did an art project together and, then, went on a bike ride together, both of my kids said something to the effect of, "What are WE going to do now..."
WE.
Not "I".
WE.
Everything has become "we."
"Go play on your own for a while," I said trying to sound NOT irate.
"No.  That's boring...." my daughter said.
"NOOO... DATS BO-WING," my son echoed.
Huh.  Imagine.  Being bored.  With YOURSELF.
Being extremely interesting myself, I have a hard time understanding this at all.
If my children were a food, I would eat them every day, three times a day, snack on them in between meals, nibble on them right before bed, and then keep them in the nightstand in case I woke up hungry.
I want to be here for them, and I crave their attention when I don't have it.
This isn't about
me
, though, it really
is
about
them
.
Because you know what?
They really do need to figure out that
sometimes
the best company you can keep?
Is
yourself
.
***
Did you know that it's Ramadan?  Did you know I explained stuff about Ramadan in one of the episodes of the podcast that I host with my token Jewish friend Mike?  Go here to listen, it's like getting a degree in religious studies in thirty five minutes or less.
Credits may or may not transfer to actual universities.  You get what you pay for, people.
Photo Credit
39 Comments
|
tagged
asian parenting,
family,
individuality,
kids,
parenting
in
Personal,
Relationships